Millions of readers and movie-goers have fallen in love with the places described by Stephenie Meyer in her four Twilight Saga novels, and the gorgeous locations seen in the five Summit Entertainment movies.
Many of us dream of actually visiting these places!


[Twilight Screenshot segment above left—Real-World Location pic above right]
We want to experience—first hand—the sights and sounds associated with the Twiverse. We want to saunter down the street where Bella and Charlie Swan live … kick up the sand on the Quileute Reservation beach where Jacob and the Wolf Pack cavort … meander the misty forests hunted by Edward and the Cullen Coven of Veggie Vampires.
We are true Twilight Saga fans.
We are Twilighters!
(Some of us are Twihards—aka die-hard Twilight Saga devotees!)
Tour the Twilight Saga travel guidebooks are researched and written by Twilighters to help all other Twilighters achieve a dream-come-true Novel Holiday.
During two years of research, CD Miller and a host of helpful Twilighters managed to identify over one hundred (100) Twilight-related sites—real-world places mentioned in Stephenie Meyer's novels, and locations where filming took place.
Tour the Twilight Saga (TTTS) travel guidebooks provide as much background information as we could find about each site, as well as directions for visiting them. No other single source—no Internet website or previously published guidebook—provides as much Twi-important information in one place.
Even if you're not yet ready to embark on a Twilight Saga trip, each TTTS travel guidebook is fun to read! Nowhere else will you find such interesting information about each and every Twilight-related site.
Whether simply dreaming of a Twilight Saga tour, or actually preparing for one, Twilighters and Twihards alike will thoroughly enjoy Tour the Twilight Saga travel guidebooks.
Use the links at left to learn more about each TTTS travel guidebook.

Take a peek at the

Free Sample

of each book.
Peruse the free TwiTips, Map Supplements, and Twi Travel Tips we've posted online—files containing

extra

information and special travel tips.
And, whenever site information Updates become available, you'll find them posted in the TwiTips & Maps directory for that book.
Preview some of the sites you'll see by clicking on the photo below and going to our
Tour the Twilight Saga YouTube Channel!


See location pix pared with movie screenshots (and more) on our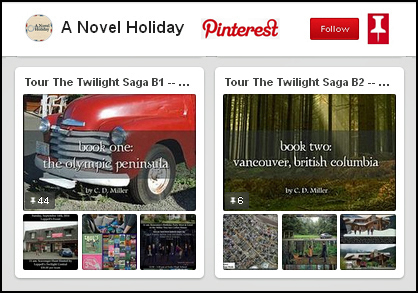 A Novel Holiday Pinterest page.
And, don't forget to LIKE us on Tour the Twilight Saga's Facebook Page.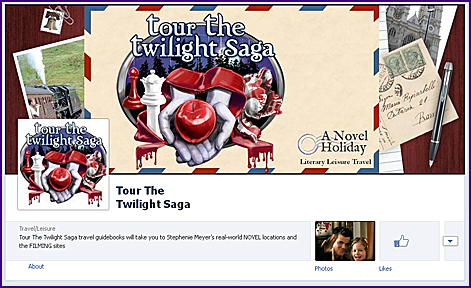 If, after accomplishing a Twilight Saga Tour, you have new information to share about a Twilight Saga site—or comments about the TTTS travel guidebook you used—please use our Contact Link (bottom right corner) to send it directly to CD Miller.
Happy Twilighting!